Simpsons of Carnoustie History – the early years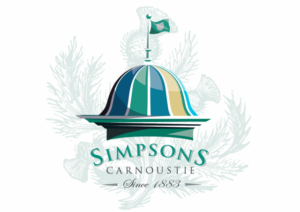 For a hundred years and more, the Simpsons Golf Shop at Links Parade Carnoustie has grown to become a much loved and familiar golf icon, resonating in the memories of golf lovers from across the globe. Simpsons has provided an unforgettable backdrop for cameras and TV stations worldwide as enthusiastic golfers and visitors alike capture their fondest memories of Carnoustie against the backcloth of this unmistakeable landmark.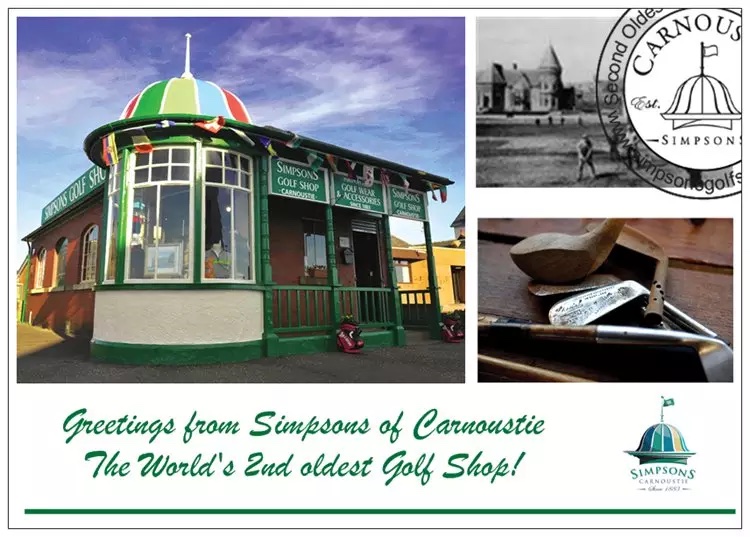 Through many decades of competitive golf played over Carnoustie's historic links; including seven British Open Championship tournaments and many other world class events (the Alfred Dunhill Links Championship, the Seniors Open and the Women's Ricoh British Open); millions of satellite TV viewers and hundreds of thousands of golfers and spectators from across the globe have visited Carnoustie and left with vivid memories of this iconic shop. Over the decades, many of the world's greatest golfers and celebrities have crossed its threshold. In addition to the many Open winners like Ben Hogan, Tom Watson, Gary Player and Paul Lawrie; many famous film stars like Frank Sinatra and famous golf and sporting commentators like Peter Allis have provided story lines for locals and media moguls alike. In days gone by some of the world's most famous amateur golfers including Sir Winston Churchill and Sir Arthur Conan Doyle have graced its floor both as a friend and customer of the founder, Robert Simpson… But why?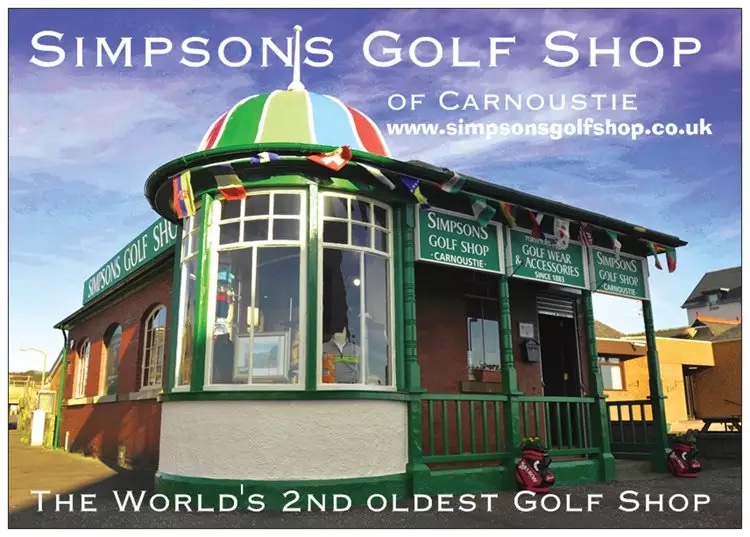 The historic building itself is certainly inviting with its charming dome.
It has a timber balustrade (painted sporting green) straddling a raised veranda frontage. Resplendent in its painted coat of vivid red, blue, green and white; the dome is reminiscent of the original 1920's cotton golf umbrella. This vibrant blaze of colour is easily seen by golfers finishing their game a few yards away on the eighteenth green and has been a feature in the landscape of the Carnoustie Links since it was built there in 1903. But the Simpsons Golf Shop has a much longer history having been established as a business by Robert Simpson in 1883. But there is much more to this story than just the shop, however iconic it has become, because the Simpsons family not only left their mark on the heritage of Carnoustie's famous links but also made a significant contribution to the development of competitive golf and the golf industry that now engages people of all ages from across the globe.
Having survived as a business continuously since 1883, the Simpsons Golf Shop is now acknowledged as the "second oldest golf shop in the world" – an enviable status in what has become a major global industry. But little is really known about the Simpsons family whose name lives on today. Why? ……. because until now the story has never been told.