The Simpson Brothers
Born to brick masons and weavers in Earlsferry, Scotland, six Simpson children became a significant part of golfing history. The most noted of all were Robert and two brothers, Jack, the 1884 Open champion, and Arche, a brilliant match player.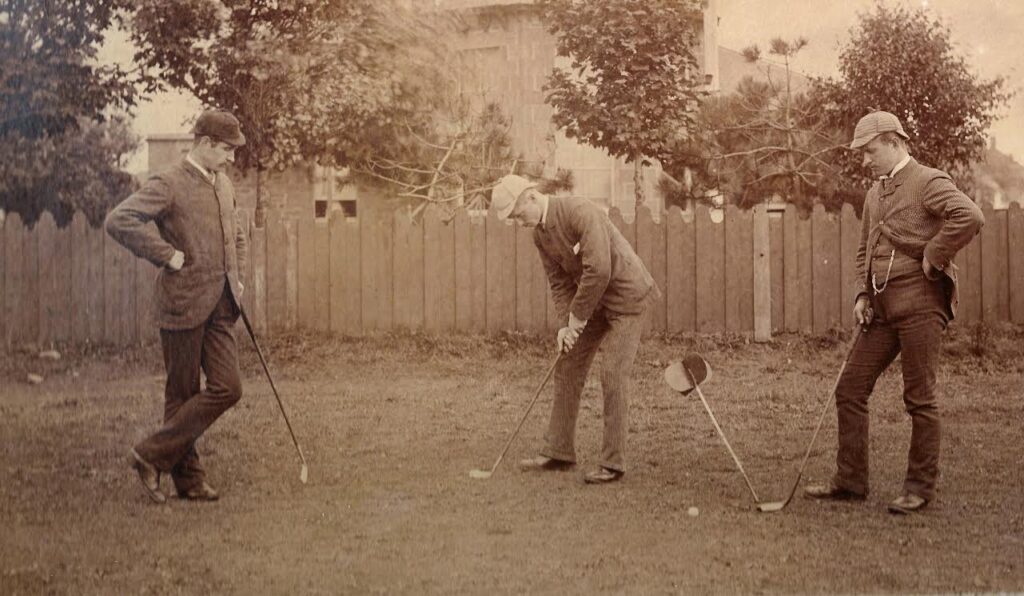 "Certainly one of the greatest golfing families the world has known"
The Simpsons boys were born and raised in Earlsferry one of the twin villages of Earlsferry and Elie Royal Burgh in the "Kingdom" of Fife the most famous golfing county in the world…
The village of Earlsferry lies adjacent to Elie and is located a few miles from St Andrews the "Mecca" or "Home of World Golf". So golf was in the veins of the Simpsons brothers. Their father, Alexander was a stone mason by trade and most of the boys followed in his footsteps; at least for a while. But the family home was just a short distance from the Links of Elie, a wonderful golf course a stone's throw from where they lived. As youngsters, golf clubs were their toys and in time it was only natural that each of them would reach a level of prominence in the great game of golf.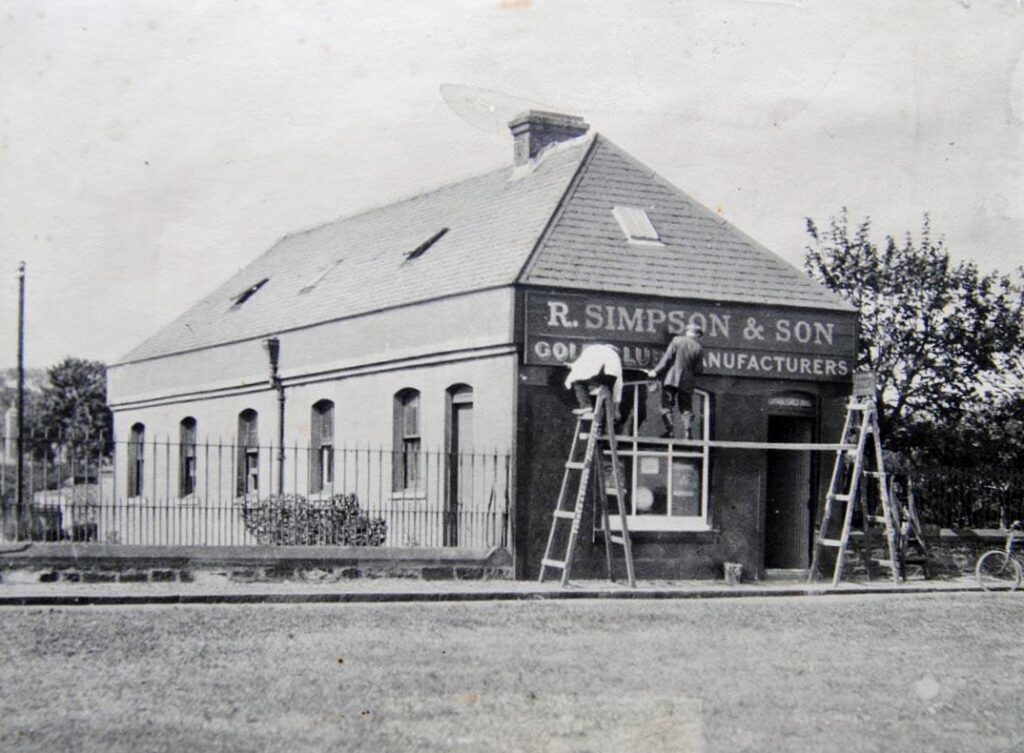 Jack was the Open Champion in 1884 and Bob (Robert) Simpson was placed second and fourth on two other occasions. Archie who arguably became the most proficient in the sport was runner up twice in the Open and on many other occasions finished high on the leader board.
In fact over a 25 year period between 1882 and 1907, there were only two occasions (1901 and 1904) when a Simpson did not enter the British Open. During this time, four of the brothers (Bob, Jack, Archie and David) made their mark in the Open and in 1886 they came 4th (Archie), 7th (Jack), 8th (Bob) and 14th (David) at Musselburgh. No other family has made such a mark in the history of golf. Indeed, it was widely acknowledged by the golfing media of the day that the Simpson brothers displayed the greatest revelation of golfing in a single family and it is believed that no golfing family has since surpassed this triumph.  The Simpson brothers were not only famous as great championship golfers but also club makers, ball makers, teachers and course designers. Bob Simpson was also known as a local politician, magistrate and poet but mostly as one of the greatest club makers of all time.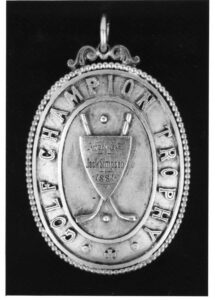 Jack (John) Simpson (1859 – 1895)
In 1883 the same year that Bob established his business in Carnoustie, Jack played in his first British Open as an amateur and finished twelfth at Musselburgh. He then moved to Carnoustie to join His brothers Bob and Archie. He then went on to win the Open at Prestwick in 1884. In 1888 he went to Buxton as the professional but soon returned to Carnoustie before returning to Earlsferry to work for George Forrester in 1892. In 1893 he formed a partnership with brother Alexander (J & A Simpson) in Edinburgh before being hired as a professional at Mortonhall Golf Club in 1894. He died of typhoid fever in July 1895.
Archie (Archibald) Simpson (1866 – 1955)
His victory in 1884 was his greatest claim to fame. He was often described as having huge wrists and a wicked swing that could propel a golf ball a very long distance. His swing was so mighty that he was known to replace his irons frequently and his putting was his biggest handicap. His obituary recorded in the July 1895 edition of "GOLF" magazine reported "Jack played Golf in loose style, driving a remarkably long ball with a powerful swing".
It was said that his game was "full of surprises" and that it appeared he tried to make it so. Indeed it was said to be a point of honour with Jack that he would always make one or two bad holes in his round. It was observed that at a critical stage in his round he would miss a tee shot or "top" his ball. Such things would have disheartened any normal player but this approach would somehow give Jack the opportunity to make a brilliant recovery and he invariably did. Such was his approach in the 1884 Open when he won with a record score of 160 strokes; one of the best ever recorded over the Prestwick course in a Championship match. Jack was described as genial and kindly with an undemonstrative nature which secured him many friends and was so characteristic of the Simpson brothers.
Archie was by far the best and most consistent player at Championship level. When little above school age he was winning prizes in local competitions and often with the lowest score. In 1885 he made his Open debut and came in second place before his brother Bob (third) and brother Jack (eighth place). Archie was reported extensively by the golfing press and had a growing following as one of the greatest match play golfers of that time. He was also teacher and club-maker and many of his clubs, made while in Aberdeen, will still be found bearing his name and mark.
He joined his brother Bob in the Simpsons Golf Shop at Carnoustie after turning professional at the age of 18. He then took the position of professional coach at the The Royal Isle of Wight  Golf Course at Bembridge; a job that lasted six months before moving to Prestwick as assistant professional coach  for the next 15  months or so. Between 1892 and 1894 he rejoined Bob at Carnoustie before becoming professional coach at the famous links at Balgownie, Royal Aberdeen.
He was involved in the design and establishment of many courses in Royal Deeside but two others were of great significance. Firstly he laid out Stonehaven over a ten year period (1896 a 1906) and although not the greatest course it proved to be a tour de force fitting in the eighteen holes amongst the rugged cliffside coastline. Secondly in 1898, he laid out (with help from old Tom Morris and his brother Bob) the first rendition of Cruden Bay which he considered his "masterpiece". Having also had a hand in the development of Royal Aberdeen (where he was the professional) it was clear that this point in time was seminal in golf course architecture. So what did Archie do? He then moved to the USA where he became professional at Detroit Country Club and where he made a name for himself as a player with an extraordinary powerful swing. He took up his new post in March 1911 and after that very little is known. In 1921 he came back and stayed with Bob during which time he shot 72 in his last round at Carnoustie (aged 56). He then moved back to the USA in 1922. A courteous and affable manner assisted Archie in becoming much loved by his club members and countrymen alike.