Robert Simpson (1862-1923)
EARLSFERRY – ST ANDREWS – CARNOUSTIE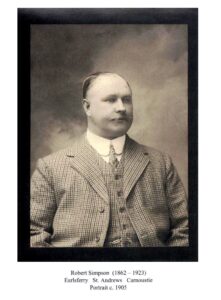 Robert Simpson, the original owner of Simpson's Golf Shop of Carnoustie, was an all-round club maker, ball maker, course designer, tutor and professional golfer. He was born in Earlsferry in 1862 and was the fifth of six golfing brothers. By 1920 the family had become a great name in the world of golf. His elder brother Jack won the Open Championship in 1884 and Robert twice finished 4th in the Open and was joint runner up in 1893. His younger brother Archie came second twice in the Open and later assisted Robert in the original design of the world famous Royal Aberdeen golf course. Robert is also famed for assisting Old Tom Morris in the redesign of the Carnoustie Championship Course. Archie went on to become a famous course designer in the U.S.A.
Today, the Simpson's Golf Shop is a testament to this great golfing family and to Robert's high stature in club making which earned him a global reputation for innovation and quality. The Simpson's Golf Shop, situated on the corner of Links Parade (across from the Carnoustie Golf Hotel) has been trading continuously as a golf shop since 1883 and is reckoned to be the 2nd oldest golf shop in the world.
He was keen to play golf from an early age.  Living close to the renowned Earlsferry Links Golf Course was a tremendous asset and from an early age he wanted to follow in the steps of other great golfers from his home town.  There were many including James Braid, the five times Open winner. Bob's older brothers Alex, Davie (David), Charlie (Charles) and Jack (John) were already keen on the sport, but at that time no one realised what a great star Bob would become. The Earlsferry Golf course was the Simpson brothers' first club which had already produced some of the great names of golf. Douglas Rolland and James Braid, a five times Open winner, had already gone before and inspired the Simpson brothers to perfect the sport.
At the age of 17, Bob Simpson took an apprenticeship with George Forrester whose workshop was close to his home and just across the road from the Elie Links. This was convenient for Bob who honed his golfing skills and when still 17 came second only to James Anderson in an all-comers match at Elie which propelled him forward as an accomplished golfer while still in his teens. His career then took a fast upward turn when he became apprentice to Robert Forgan at St Andrews and it was there his club making talents grew quite noticeably. He had already played many tournament matches with success. While his playing talent was growing, his club making talent was also being noticed having been well schooled by two of the greatest club makers of that time; George Forrester and Robert Forgan. Apart from his club making and golfing prowess, of particular note was his striking character and he was well known as a gentleman and being most polite in all his dealings. Only kind words have been spoken of Bob and even to his death he was regarded with respect as a kind and gentle person.
Such qualities were recognised first when in 1883, at the young age of 20 years, he was hired as a professional by the Dalhousie Club of Carnoustie. The Dalhousie Club founded in 1868 recorded in their minutes "… That after careful examination and conversation…. The Chairman stated that he had seen and played with both candidates and on his recommendation the meeting unanimously resolved to appoint R Simpson, St Andrews, for 12 months at a salary of £5 per annum with the full use of the club's workshop and fittings…"
He never left Carnoustie and the rest is history. Robert's good fortune in coming from a good family with strong golfing traditions and good work ethic, coupled with his polite disposition and self-confidence at such an early age would catapult Bob Simpson into worldwide fame and a prosperous future in Carnoustie.
Bob was well respected by his profession. He was given a portrait by the most famous of golfers, Old Tom Morris who became a good friend. They worked together to redesign the Carnoustie Links course around 1890 when Bob was superintendent of the courses.  He may have gained his on-the-job training from Old Tom and is credited with designing course layouts at Royal Aberdeen, Crieff (Ferntower), Edzell, Oban, Moffat, Linlithgow, Alyth and Blair Atholl.
Bob was employed by the Dalhousie Club as ball maker, club maker, teacher and golf course superintendent giving lessons to Dalhousie members and generally overseeing the playing of golf at Carnoustie. During his forty years in Carnoustie he went on to achieve a great deal more. Bob's golf business prospered and at various times his brothers Charles, Jack and Archie worked with him in Carnoustie where they also learnt the skills of club making. At one time he employed around thirty making and repairing clubs and it is estimated he taught a great proportion of the 200 or so professional club makers who emigrated from Carnoustie to become professional club-makers and coaches in the fast growing golf industry of North America. Bob however was known to have forsaken the alluring aspect of playing for the more practical task of manufacturing but this didn't stop him becoming amongst the best of players.
He was well respected within his community and became a town councillor (Baillie) as well as a senior magistrate. His prowess as club manufacturer elevated him to friendships with famous people of his time. Sir Winston Churchill, a well-known golfing enthusiast, and at that time Minister of Munitions stayed at  Rockcliff (the Simpson's family residence) as guest of Bob Simpson and his family  in 1918 (during a visit to Dundee).
Bob's "Simpsons" clubs were shipped to far and distant places around the world including Buenos Aires, Shanghai, Singapore and Bombay. Many of his customers he counted as his friends and many of these were drawn from the British ruling class of the time. For example records exist of a letter from his friend Lord Pentland, then Governor of Madras in India asking him to send a driver and "cleek" for his daughter. Closer to home, the Simpsons were friends with a number of political figures. In those days professional golfers winning monies from matches were not looked upon as favourably as they are today. But Bob was universally respected as a craftsman, a teacher, an inventor, and an all-round expert in his field; and so his professional status had a much wider resonance in every strata of society. Invitations for the Simpsons to attend the marriage ceremony for the daughter of the Earl & Countess of Aberdeen bear testimony to the high regard in which he was held. Sir Arthur Conan Doyle, author of Sherlock Homes was a keen golfer and a customer and family friend; and the Grand Duke Michael Alexandrovich of Russia would order clubs from Simpson while on holiday in Cannes (before his abduction and assassination by the Bolsheviks in 1918).
It was widely acknowledged that Simpson's clubs were the new "pattern" welcomed universally by playing golfers. In the manufacture of iron clubs Bob Simpson claimed he had done golfers a service through the patents that bear his name and many commentators agreed with this claim. The story of Bob's inventions and the contribution they made to the fast developing golf industry will be told elsewhere. Suffice to say he was a most prodigious inventor and designer and there were few games of golf played by two or more golfers anywhere in Scotland that did not have at least one Simpsons club in the bag.
The original Simpsons shop was further eastwards along Links Parade within the grounds of the Dalhousie Club where Robert simpson was employed in 1883 as clubmaker, ballmaker, course manager and tutor.